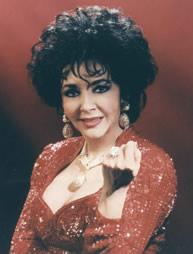 Janie minick is a two time winner of the International Guild Of Celebrity Impersonator and Tribute Artists Award for "Most Outstanding Impersonation of a Female Legend"

Janie's look, voice and mannerisms give the audience a feeling of having spent time with Elizabeth Taylor herself.It can be un unforgettable experience! Janie Minick as Elizabeth Taylor "Memories of A Legend" Keynote Speaking program Humorous, Inspirational and Entertaining.

Billed as a mystery guest, Janie Minick will enter the room looking and sounding like Elizabeth Taylor herself. Speaking in first person, she will reminisce on Liz's career, the Burton years, public scandals, political life and stories you never knew about her glamorous life. the "Memories of a Legend" program is humorous, inspirational and entertaining.

At the end, Janie will reveal her tru identity and will be happy to answer questions from the audience. Photo opportunities are also available. the "Memories of a Legend" program or the monologue are ideal for luncheons, spouse programs, after dinner entertainment, surprise guest speakers and other special events.

What People Are Saying
"Yes, Janie (Liz Taylor impersonator), John (Antonisse, DJ) & the casino guys all exceeded our expectations. Very friendly - would hire them all again."
..... Mica Cheshier, McCurley, Orsinger, McCurley, Nelson & Downing, LLP. 12-12-2008

"... of course she looked like Liz on-stage with makeup. But what was so surprising was that she was even more believable up close."
-- Dallas Morning News

" Everyone I have talked with thought it was the best program we've ever had! Unfortunately, I'm afraid we will never get another program to equal it."
-- Braniff Women's Auxiliary

" When I see pictures of Elizabeth Taylor now, I feel as if I've met her."
-- Delta Gamma Alumni

" This is the best Elizabeth Taylor impersonation I have ever seen."
-- Maury Povich, The Maury Povich Show

".. her performance was absolutely foolproof..."
-- ISEM at SMU

" Believe me, people are stunned when they see her walk up to the podium, and many of your members will be convinced that she is really Elizabeth."
-- Professional Publishing Association
"What an incredible "Liz"! Not only do you look like her, but you are so knowledgeable about her mannerisms and her life!"
-- Society of Texas Entertainment Professionals